Jackson Plumbing, Heating & Cooling About Us
Keeping Customers Comfortable Since 1987
Jackson Plumbing, Heating & Cooling Our Services
About Our Decatur Plumbing, Heating & AC Company
Local Professionals Also Serving Madison, Morgan & Limestone Counties
Jackson Plumbing, Heating & Cooling provides award-winning plumbing, heating, and AC services in Decatur and the surrounding areas. It's always our goal to deliver professional solutions you can rely on. Our certified team has the expertise to ensure the professional repair, installation, and maintenance of your plumbing and HVAC systems.
Dedicated to Serving You
With your satisfaction being our top priority, our local professionals strive to provide the best services possible. Our technicians have the training and experience to answer your questions and provide you with the information you need to make the decision for your home.
---
Want to learn more about our Decatur plumbing, heating, and HVAC professionals? Contact us online or call (256) 353-0051 today.
---
Why Choose Jackson Plumbing, Heating, & Cooling? Make the Right Choice For Your Home
We warranty all of our work with a 2-year, unconditional warranty to provide peace of mind.

We are locally owned & operated providing convenient service designed for you.

When you give us a call, we guarantee your problem will be fixed Jackson Fast!
Our A+ BBB accredited business is proud to be the receiver of numerous awards, including four from HomeAdvisor. We were also voted the Best of the Best 2017 in The Decatur Daily Reader's Choice Poll for the categories of Heating and Air Conditioning Service and Plumber.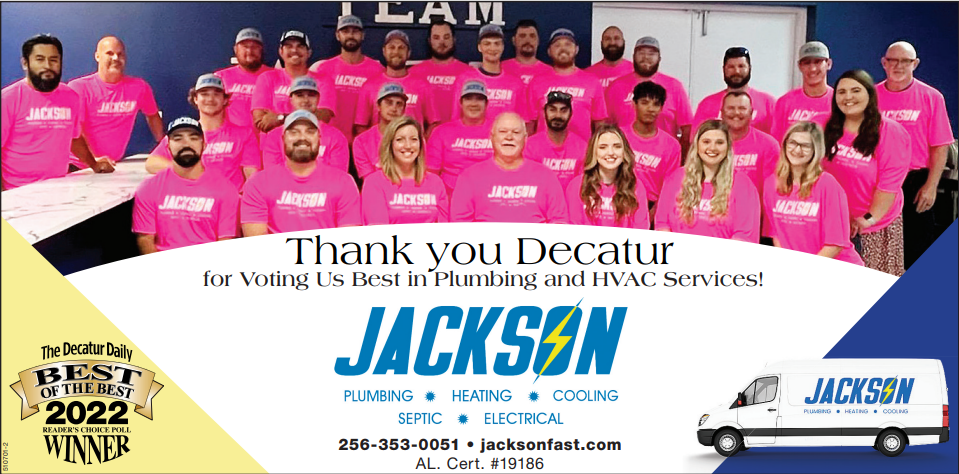 Call Jackson Plumbing, Heating & Cooling Today
Reach out to us to schedule your plumbing or HVAC service. We provide free estimates for new installations, replacements, and maintenance. Our team also offers a number of month-to-month specials as well as a 5% military and senior discount and $59 HVAC clean-ups and tune-ups. We offer quality workmanship backed by exceptional customer service.
Preferred by Residents for 30+ Years
As a plumbing, heating, and cooling company that's been serving Northern Alabama since 1987, we understand how much customers appreciate having a team they can trust to handle their most important household fixes.
Homeowners throughout the local and surrounding areas turn to us because we:
Have the equipment and experience to handle anything
Follow a strict no-profanity rule and are professional at all times
Have all undergone drug tests and background checks
Are local and convenient
Are thoroughly trained
Offer a Peace of Mind Protection Plan
Overall, our team is made up of good people who are dedicated to delivering quality results at affordable rates. We even give back to our community by volunteering on weekends and working with charities such as Habitat for Humanity.
Jackson is an Ace Hardware Company
Jackson Plumbing, Heating & Cooling is now an Ace Hardware company! Ace Hardware acquired Jackson Plumbing, Heating & Cooling along with a growing roster of service companies throughout the US. It's all part of an effort to serve more homeowners who are seeking to have projects completed for them by trained professionals from the Helpful brand they trust.
This is a significant milestone for our team. The alignment of values, purpose, and vision between Jackson Plumbing, Heating & Cooling, and Ace Hardware is truly remarkable. Joining forces will allow us to create an even better experience for our customers in Decatur, Huntsville, and beyond.
Supporting nearly 5000 neighborhood stores across the country, Ace Hardware is a company dedicated to helpful service in local communities. Much like Jackson, Ace Hardware believes in delivering an amazing experience to every customer, every time. Ace Hardware stores are locally owned and operated, with the goal to be helpful in the aisle and now in the home.
Together with Ace, we will continue to deliver the exceptional service and quality you expect, now with the resources of the Helpful brand you trust.
We are excited to grow Jackson together with Ace to continue to support the local community for years to come.
We'll Be There Jackson Fast Contact Our Team
See Our Projects Photo Gallery